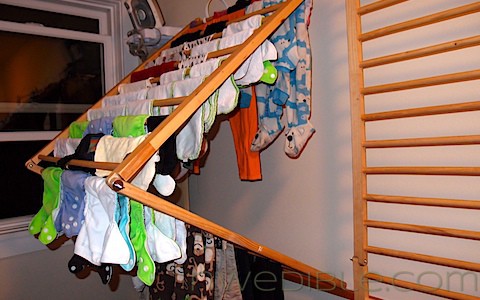 Okay, this one I am very excited about. Unfortunately I can't do it right now, as we have no space to do so and are moving soon anyhow. But it looks so easy! It's a fully collapsible drying rack, wall mounted, and looks so easy to make. And the blogger even says that you can collapse it while the clothes are drying on it if needed, so that you don't have to worry about how much space it takes up if you need to switch another load.
For each rack, you need two slatted crib sides, some bolts, two plant hooks, and a strip of wood to rest the bottom of the drying rack on when it's propped up. The tutorial for flat racks is found
here
, and the follow-up (which includes a backlink to the original tutorial) can be found
here
.